Dagaalo ba,an oo ka qarxay deegaanka Dhuudo.
Laascaanood,Somalia,31 December 2002:Waxaa shalay ka qarxay deegaamada ay ka midka yihiin Jeded,Cambaaro,Harada iyo Dhuudo dagaal ba,an oo u dhexeeya maamulka hada gacanta ku haya badanaa dhulka Puntland ee uu madaxda u yahay C/llaahi Yuusuf Axmed iyo taageerayaasha Jaamac Cali Jaamac oo isagana ay caleema saareen isimada Puntland .
Wararka ayaa sheegaya in dagaalkaasi uu bilowday kadib markii ciidamada daraawiishta ee dawlad goboleedka Puntland oo beryahanba isu diyaarinayey sidii ay u weerari lahaayeen malayshiyada taageersan Jaamac Cali Jaamac,malayshiyadaas oo u hogaamiyo nin lagu magacaabo Gen Cade Muuse ayaa beryahanba isku urursanayey deegaanka Dhuudo,dhulkaas oo ah meel buuraleey ah oo ay difaac ka geli karaan marka la soo weeraro.
Ciidamada daraawiishta Puntaland oo saldhig ka dhigtay tuulada Alxamdu-lilaah ayaa waxa hogaaminayey labada nin ee kala ah Carays iyo Siciid Dheere,labadaas sarkaal oo ka mid ahaa saraakiishii hogaaminaysey ciidamada taabacsan C/llaahi Yuusuf xiligii uu awooda Puntland dib u qabsanayey ayaa waxa uu C/llaahi Yuusuf oo isaguna goobtaas ku sugnaa uu amar ku siiyey inay cagta mariyaan waxa uu ugu yeedhay "Maryacalasta iyo Alitixaad",waxaa iyaguna iska caabiyey ciidamadii Gen Cade Muse oo iyagu mar horeba dhufayska sii galay,waxaa is qabsaday daryaanka rasaasta noocyadeeda oo dhan,khasaaraha halkaas ka dhacay ilaa iyo hada si cad looma xaqiijin karo,iyadoo qolo waliba sheeganayso inay iyaga guushu raacday,balse sida ay ila xog ogaal ahi noo xaqiijiyeen dagaalkani uma fududa sidii kuwii hore,oo malayshiyada Gen Cade mudo dheer ayay u diyaar garoobayeen weerar uu C/llaahi Yuusuf ku soo qaado,kuwaasoo sida la xaqiijiyey adeegsanaya hub culus oo aanay ciidmada daraawiishtu xisaabta ku darsan,hubkaas oo sida ilo xog ogaal ahi noo xaqiijiyeen laga keenay dhinaca dawlada la magac baxday Somaliland,maamulkaas oo beryahan danbe ku hawlanaa sidii uu uga aar goosan lahaa maamulka Puntland ee C/llaahi Yuusuf kadib markii Riyaale oo ah madaxa maamulkaasi oo ciidamo hubaysan wataa uu soo galay magaalada Laascaanood,kadibna ay ciidamada Daraawiishtu ka saareen magaaladaas.
Warar aanu ka helnay weriyayaasha noo jooga magaalada Laascaanood ayaa waxa ay noo sheegeen in colaadan dib uga bilaabatay deegaanka Punland laga dareemay dhamaan dhulka Puntland,waxay noo sheegeen in magaalada Laascaanood laga dareemayey ciidamo fara badan oo ku sugnaa magaalada duleedkeeda oo ciidan gaaraya ilaa 300 oo ka mid ahaa ciidankaas loo diray gobolada kale ee Puntland sida Garoowe,Qardho iyo Boosaaso,si ay u buuxiyaan goobihii ay firaaqeeyeen ciidamada ka hawl galaya deegaanka Dhuudo,si aan khal khal loo gelin hay,adaha dawlada,nabadana loo sugo.
Khilaafka siyaasadeed ee Puntland ayaa bilowday kadib markii C/llaahi Yuusuf ay ka dhamaatay xiligii loo doortay madaxtinimada Puntland,kadibna ay doorashooyinkii la filayey ay dhici waayeen,ayaa waxa qaar ka mid ah isimada Puntland ay u kordhiyeen inuu sii hayo awooda Puntland,balse waxaa taas diiday qaar kale oo iyaguna ka mid ah isimada Puntland,kadibna shir lagu qabtay magaalada Garoowe ayaa waxaa loogu doortay madaxweyne cusub Jaamac Cali Jaamac,balse waxa taas diiday C/llaahi Yuusuf,oo ugu danbayntii ka xoog batay Jaamac Cali Jaamac,dibna u qabsaday badanaa dhulka Puntland.
Laascaanood,Somalia
---
Kibaki takes over as the President of Kenya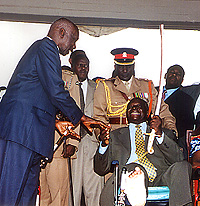 © Laascaanood online

The outgoing President Moi presents the Sword of Honour of the Commander in Chief of the Armed Force to President Mwai Kibaki, during the swearing in ceremony at Uhuru Park in Nairobi today.

Nairobi,kenya,31 December 2002:Mr Mwai Kibaki was yesterday sworn in and handed the instruments of power in a ceremony marked by pomp, an overflowing sea of humanity and the dignified presence of foreign presidents.

He immediately declared a new dawn for Kenya, total war on corruption and an extension of a hand of friendship to his political competitors.

The new President who arrived at Uhuru Park at 1:40 pm to an ecstatic reception was sworn at exactly 2:05 pm by Chief Justice Bernard Chunga.

The master of ceremonies was Major-General Alexander Sitienei - a former presidential aide-de-camp.

The memories of the out-going President Moi paying homage to Kibaki and acknowledging Kanu's defeat in Friday's General Election was firmly etched in the minds of Kenyans.

There was a roar of applause and wild cheers when Mzee Moi opened his speech by formally addressing his successor and one-time deputy as " the President of the Republic of Kenya Mr Mwai Kibaki''.

"The people of Kenya have spoken, let me acknowledge Kanu's defeat. You have exercised your democratic right,'' he said to electrifying shouts of Rainbow! Rainbow!

Mzee Moi then reflected on his 24-year-rule saying; "I hand over the burden of office . . . . the new President is a man of integrity and courage.''

The power shift was manifest in Mzee Moi giving President Kibaki the ceremonial Commander-in-Chief's sword and the immediate movement of Mzee Moi's uniformed ADC Colonel Tom C.K. Kipng'etich to serve President Kibaki in the same capacity.

Uhuru Park reverberated with the booming sound of the 21-gun salute the military gave their new Commander-in- Chief.

Smoke laced with the smell of gun-powder rose gently to the skies, heralding a new era for Kenyans and the official roll of the curtains on Kanu's 40-year rule.

The rollicking crowd accompanied every shot fired by the military with wild cheers. The event rekindled the thrill and sense of expectation witnessed during the Independence celebrations in 1963.

The new President's white and golden standard was raised as Mzee Moi's golden and green one was gently lowered.

The crowd even loudly hummed the tune of national anthem of foreign states belted out by the military brass band.

They had their own songs too, mainly theYote yawezekana bila Moi (All is possible without Moi) and We're unbwoggable (not scared) beats.

"You have asked me to lead this nation out of the present wilderness and malaise on to the promised land. And I shall,'' President Kibaki assured the nation as he got a standing ovation.

He added: ''The task ahead is enormous, the expectations are high, the challenges are intimidating. But I know that with your support and co-operation, we shall turn our problems into opportunities.''

The historic Uhuru Park, the venue of the installation of Kenya's Third President, was a resplendent galaxy of colours.

Thousands of people pushed and elbowed each other in a bid to get a glimpse of Kenya's first transfer of power between an exiting and incoming Head of State.

The new President could hardly conceal his marvel over the turn-up and the carnival mood in the Park. "Look around you, see what a gorgeous constellation of stars we are, just look at this dazzling mosaic of people of various ethnic backgrounds, race, creed, sex age, experience and social status,'' he said.

President Kibaki, however, had his meditative moments too like when he talked about the administration he was taking over.

"I am inheriting a country which is badly ravaged by years of misrule and ineptitude,'' he said.

Several times the jostling for vantage position among the crowds and the failure by Government security and protocol chiefs to put in place adequate crowd control mechanisms threatened to overran the VIP pavilion and the buffer zone reserved for the military parade.

When President Kibaki took the microphone to address the nation they at 2:20 pm exploded into rapturous applause. After a six-hour wait and the accompanying fatigue, they were buyoed and rejuvenated by President Kibaki's booming voice.

"You have asked me to be your chief servant and I accept it with humility and gratitude,'' said President Kibaki as he marvelled over the revelry and splendour of the event.

"I am overwhelmed by your love, I am emboldened by your support and enthusiasm. I am thrilled by sense of dedication and commitment to this country,'' were President Kibaki's opening words.

The grand ceremony carried out under the aegis of the Kenyan military was spiced by the presence of visiting Presidents Yoweri Kaguta Museveni (Uganda), Benjamin Mkapa (Tanzania) and Levy Mwanawasa (Zambia).

Also present was the Prime Minister of Rwanda Mr Bernard Makuza.

South Africa's First Lady Mrs Zanele Mbeki was roundly applauded when she rose to address the gathering as the official representative of the South African state Mr Thambo Mbeki.

In their speeches the foreign dignitaries overwhelmed Kenyans with praises over the peaceful campaigns and transition.

"You have enhanced your nationhood and defended the pride of Africans. We are proud of you,'' said Mkapa.

Mwanawasa, an ardent fighter for democracy for years before ascending to power, took Kenyans through bubbling chorus of "The hour has come!''.

He showered the former president with praise saying he was a hero having refereed a peaceful transfer of power from one person to another. Museveni said it was a humbling occasion to see one African leader passing over the instruments of power to another.

"We (Africans) make small things big but look at these two,'' said Museveni amidst exhilarating cheers.

President Kibaki was handed a certificate endorsing his triumph over five other presidential candidates in the December 27 General Election as per the statutes by the Electoral Commission Chairman Samuel Kivuitu.

When the thousands who attended the installation trickled out of the grounds no blade of grass had been spared the trample.

On each lip was President Kibaki's name, after all many of them being under 30 have not known another President except Moi.



---